1 Name , Family name , date of birth , profession , usual spot e/o preferred spot.
Lukas, Mathies, 15.03.1991, army sports, Silvretta Montafon(Austria ndr) / Crested Butte(Colorado USA ndr)
">2 Material used: boards , bindings , boots, helmet , goggles , clothing.
SG Snowboards, F2, UPZ, Uvex, Schöffel
3 Since when are you on hard snowboarding.
Since i was 10 years old(1981 ndr)
4 Why hard?
I think that is the real snowboarding.
5 What do you think about new tecnologies: decamber, rocker, taper, multi radius, materials such as carbon fiber and titanal , plates.
The new carbon plates are a relief for the alpine rider.
6 What could help to raise the hard snowboarding.
I don´t know, but the japan guys make the right.
8 What to say to someone who is starting.
When you start snowboarding then hard.
9 What to say to someone who has already …
I say, it looks really good to watch.
10 Tell us something that we didn't think.
You should make more trainging camp for kids.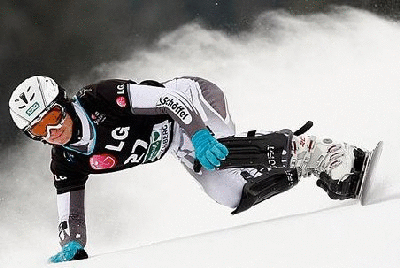 Taduzione con Google Chrome
La medaglia d'oro all'ultimo decimo
Dopo sette medaglie d'argento e due medaglie di bronzo, infine, erano in oro Giovedi per snowboarder Vorarlberg giovani: Lukas Mathis è da St. Gallenkirch Vorarlberg il primo Campione del Mondo Junior nel Skisparte recente.
Ha assicurato la medaglia d'oro in Valmalenco in slalom parallelo.
La seconda gara di Coppa del Mondo in Italia è stato un "parallelo perverso" alla prima.Mentre in Parallelriesentorlauf tutte le indicazioni per un cancello poco prima della finitura argento e poi d'oro erano fuori, Mathies era nello slalom parallelo dopo la prima manche finale indietro di 0,55 secondi.
Nella seconda gara del Montafon, ma ribaltato la situazione, ha spinto 77/100 più veloce del suo avversario e assicurato il terzo e Vorarlberg nel decimo tentativo, la prima medaglia d'oro al Campionato del Mondo Junior.
Mathies Lukas da St. Gallenkirch vinto il Mercoledì ai Campionati del Mondo Junior a snowboarder Valmalenco (ITA), la medaglia d'argento nello slalom gigante parallelo.
Oro del Montafon perdere per soli 13 centesimi di secondo, fino al quarto gol ultimo del finale era ancora in vantaggio Mathies.
Per Luca è stata la medaglia d'argento, secondo al World Junior Championships, nel 2008, ha gestito l'impresa stessa nello stesso luogo.
Per le ultime due settimane di 20 anni di età, la stagione è così andato perfettamente fino alla fine, ha avuto ma era solo lo scorso fine settimana assicurato tre vittorie in Lachtal classifica della Coppa Europa generale in concorso parallelo.
La Medaglia Mathies è il nono Vorarlbergers a Campionati del Mondo Junior, il settimo in argento.
Sono stati due volte ancora di bronzo, l'oro non sembra nel raggio campionato medaglia di Vorarlberg.
Mathies preso tre vince la Coppa dei Campioni con una brillante idea, il fine settimana st.Gallenkirchner Lukas Mathies ha deciso il riassunto del parallelo Snowboard Coppa Europa per se stessi.
Lukas ha vinto tutte e tre le gare in Lachtal e così cominciò il leader Andreas Laussegger della classifica generale a partire da ancora.
Mathies quindi celebrato le sue vittorie 2-4 in Coppa Europa, il primo ha ottenuto nel 2009 Hochfügen.
Così gli amanti dello snowboard Vorarlberg ha scelto due voti Totale CE per se stesso, prima di Lukas Mathies Alessandro Hämmerle da Gaschurn portato la CE TripAdvisor crosser di snowboard.