1 Name , Family name , date of birth , profession , usual spot e/o preferred spot.
1. Andrej Cerne, 7.11.1966, product manager at SENSE spot: Cerkno Slovenia
2 Material used: boards , bindings , boots, helmet , goggles , clothing.
2. Board -SENSE, bindings -Burton race, Boots-Burton Reactor, helmet- SENSE,Goggles-Spy , clothing- 686, plates- SENSE
3 Since when you are on hard snowboarding.
3. Since 1985
4 Why hard
4.because I enjoying on clean turns
5 What do you think about new tecnologies: decamber, rocker, taper, multi radius, materials such as carbon fiber and titanal , plates.
5.All new tehnologies are for me, useless is there on the end is no big smilles on the faces of riders.
6 What could help the raise back of the hard snowboarding.
6.Events & sharing good feelings and knowledge,enjoying in the circle of the same thinking people.
7 Training techniques.
7.Awery technik is need to try and from all take awerything witch make you smille.
8 Whath to say at whom is starting.
8.Be patient, smilles will come soon:))
9 Whath to say at whom has already.
9.Enjoy in riding,in discowering new technics,bonding with buddys,teaching others and drinking good beers on the end of the day.
10 Tell us something that we didn't thought.
10.Hard snowboarding is invented for having fun and nothing else:))
Andrej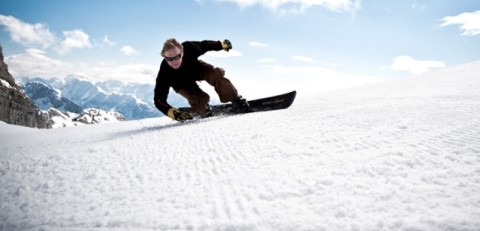 Sense story
"It makes SENSE!"
The story about the brand Sense began exactly as it should start any such story. Andrej Černe, the protagonist in the story and the development guru of all products today held under the brand, step on his first snowboard in the times when this sport just began to conquer the world. He was quickly fascinated by wriggling down the white slopes on the unusually wide board and therefore spent more and more time on the board … until he found out that there aren't really a board and bindings on the market to fulfill his demands and wishes. Andrej was not thinking over long, but took things in his hands and back in 1985 in the basement of his house produced his first snowboard and bindings.
Friends, that he spent the most time on the snow with, soon took on the new snow sport and enthusiasm over it. Moreover, they were fascinated about the boards, which were slowly, but steadily emerging in Andrej's basement. By the time of first snowboard races Andrej, also as a snowboard coach, gained enough knowledge and experience to advance his craft into production of racing snowboards. Later they were followed by the boards that cut the turns into rough snow of the Himalayas.
Several experimentations with different materials and processes in snowboards' manufacture resulted in R&D laboratory, opened in 1992. The laboratory enabled Andrej successful development of snowboards for numerous other brands. Despite plenty of work, his joy for snowboarding was not lost. On the contrary, he started to seek for new, more extreme challenges, and in 1995 took part in snowboard speed racing in the French resort Vars. His officially measured speed in downhill was 150 km/h.
At the turn of millennium and 15 years after the first snowboard came from Andrej's cellar, when R&D laboratory accumulated already dozens of prototypes designed for various clients, a new challenge emerged for Andrej: to test the experience and technology in the World Cup racing. It took four years to develop the snowboard, competitive enough for racing on the highest level. It was Slovene racer Jernej Demšar who in 2004 raced between World Cup poles on Andrej's snowboard for the first time. The success that followed encouraged Andrej in founding and registering the trade mark Sense in the following year as well as in expansion of his business to development and manufacture of skis. And only a year later in 2006, he, as the first on in the World Cup, presented the mono plate.
Today, after more than 25 years of experience, and numerous snowboards and skis produced, Andrej remains true to his principles: namely Sense is considered as one of few if not the only brand in the world boasting with a completely hand-made products, enriched by ongoing development and the most advanced materials.
Each product is unique and fully customized for final user, since virtually all snowboards and skis are made exclusively for a known customer. Consequently the development of the product really begins when the customer completes an initial test on the snow, which involves a detailed video analysis with Andrej. Let us conclude with a whisper in your ear: there are only 30 such luckys each year and no one more.