Sense 185 April 3rd, 2010 Zanci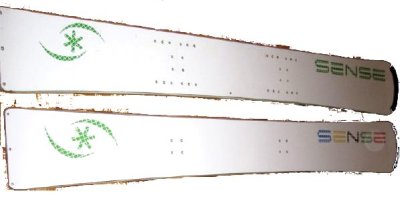 Just got these two babies.
Tried them today,great ride.
Both are 185.
Left is a bit stiffer and 21 waist,right one 19,5.
Best boards I have ever ridden.
Bit more lively than Kessler so it's more fun to carve.
Awesome grip and rips everything.
Probably not riding anything else for atleast a year.
Kill the hill type of the board
hey are metal construction,with variable radius.
Both 185 .
Left one :
A bit stiffer and 21 cm waist.
Right one :
19.5 waist
Best boards I have ever ridden.
And I have tried the newest 185 kessler , SG , prior ,…
You can't even compare it with priors or doneks.
The only board that comes close is kessler and maybe SG,but have only ridden woman version of SG.
It's a bit more lively so it's more fun for carving.
The only problem is that these two boards were made for racing so you need to be careful when pushing the nose at lying down if it's soft.
They're great but you need to know how to ride.

We'll be probably up on Molltal on wednesday if you want to try.
Nose: 24,5 cm
Waist: 19,5 cm
Tail : ~ 22 cm
The nose decamber goes to the end of the letter S on the top sheet.
The nose is almost flat
Just got 1 at home,the other one isn't mine

Yeah well,the board is great but it's expensive.
I got it cheap but if you get a new one ,something like this is ~1500 euros.
Handmade in Slovenia.
Expensive thought, so not a mass production.
When you try them,you just have to get it
http://www.youtube.com/watch?v=YAJuMJMHnc8
Boards in action 😛